Blume Skin Care
Hydrating Skin Care Products
Fix greasy and oily skin with these skin balancing products with natural ingredients.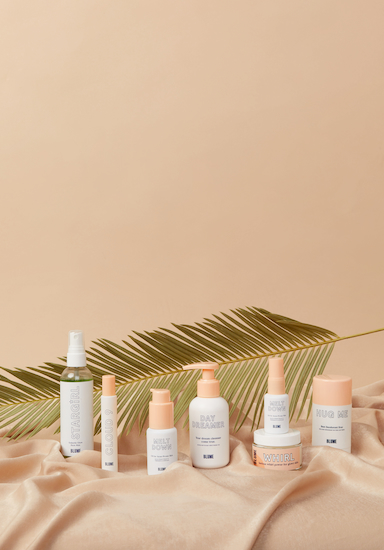 Hydrating Skin Care Products
When you think of skincare, is anything more of a nightmare than dry skin? The redness, itchiness and flakiness can be a struggle to manage! Not only can the sight of dry skin be unideal, more importantly, it can be physically painful and emotionally distracting. In the most extreme cases, a person with dry skin may start to see splits, cuts or even bleeding in the affected areas. This condition might be due to the climate you live in or hereditary factors. Either way, with the right combination of products, you can hydrate your skin and kick dryness to the curb. Log on to Blume.com today and learn more about the products we offer to revive your skin and keep it looking healthy.
Get the Right Products to Keep Your Skin Hydrated
Maintaining healthy, firm and radiant skin isn't a one-time or occasional task. It requires dedication and moisturizers you can count on to prevent dry skin. At Blume, we know how to battle dryness because we've all been there. Our line of hydrating lotions and creams are sure to put a smile on your face and make an impression on those you meet. You first might want to check out Whirl, our moisturizing superstar. Just a few dabs of this lotion will make a world of difference. It doesn't matter whether you have sensitive skin or any other skin type—Whirl can work effectively for anyone! You can apply it first thing in the morning, late at night before bed or anytime in between. The results will be the smoothest skin you have had in a long, long time.
We'll Show You How to Be Gentle With Your Cleanser
If you're like many people, you've tried your fair share of facial cleansers. You've probably had mixed reviews of these products and the search feels endless. It's common to find harsh cleaners that do few favors for your face in the long run. Our cleansers are gentle on your skin and give you the look and feel that you want. Daydreamer face wash doesn't leave you rushing for a moisturizer post-cleanse. Put it on as needed with just two or three pumps at a time, and let this product do its incredible work. But first, make sure you wash your face thoroughly. Once you put on the cleaners, carefully rub it in and then rinse it off. Your skin will look and feel refreshed!
You Can Also Moisturize and Hydrate With Face Cream
There's much more to Daydreamer than cleaning. Along with Whirl, it can do a number on dry skin and hydrate your face well. Each time you apply it, the cream will go deep into your skin and leave it feeling soft, plump and naturally glowing.
Wonder How To Target Acne Without Drying It Out?
There's no doubt that we all want to get glowy skin, but it's not easy if you have to deal with acne first. It's a good thing Blume has Meltdown Acne Oil to save you! This community favourite and popular product not only battles acne, but it prevents breakouts from coming back in the future. It'll even diminish pores and repair the scarring that acne leaves behind. At the same time, Meltdown hydrates your skin, so you won't have to deal with dryness either. It's safe to say, we've got you covered.
Remember to Refresh With Facial Mist
Blume can help you wake up each morning feeling revitalized as well. Stargirl, our winning spray, nourishes your skin, whether or not you're wearing makeup. Don't be afraid to try it a few times throughout the day! It's great to use the mist with Blume's other products to clean and hydrate your skin, and to make you look as radiant as ever. Soft, smooth, beautiful skin shouldn't be a pipe dream! With our skincare line, you're sure to make these conditions a reality.