Blume Skin Care
Dry Skin Products
If you're suffering from dry or cracked skin, try these natural products for a hydrated, balanced solution.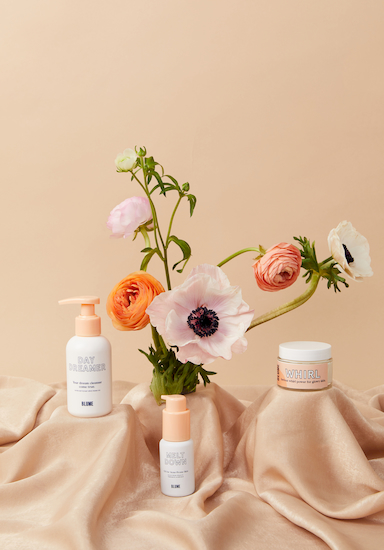 Dry Skin Products
When you're ready to put your best face forward, nothing cramps your style quite like dry skin. Your skin is your body's largest organ and first line of defense from outside stressors. You really need to give it the tender loving care that it deserves by keeping it cleansed, moisturized and protected. While dry skin on its own is not necessarily harmful, it's hard to show your best self when your skin is parched. Skin that is well hydrated looks better, feels better and even takes makeup better. Dehydrated skin, on the other hand, looks dull, stressed and tired. It can even make you look aged. Extremely dry skin can sometimes itch, crack or lead to certain chronic skin issues. Several factors affect the moisture levels in your skin, including ones that are out of your control such as the local climate and weather. Let's talk about the things you can control.
Cleanse Deeply With Face Wash
First things first! Healthy skin should be cleansed thoroughly and regularly. Cleansing helps to remove impurities, unclog pores and refresh your face. For healthier skin, you want to avoid washing your face with harsh, drying soaps that leave it tight and starved for moisture. A good cleanser is gentle, yet effective. It removes dirt without stripping your skin of its natural moisture. Search for face products for glowy skin such as the Daydreamer Face Wash. This creamy cleanser is sourced from plant-based extracts that calm your skin, fighting dryness and irritation without stripping. It offers a deep clean in a vegan formula that leaves your face refreshed. Avoid washing your face with water that is too warm, as that dries out your skin.
Plumping Moisturizer For All Day Hydration
After cleansing, you need to gently pat your skin dry. This helps your skin retain the moisture offered by the water you used to rinse. Your face feels refreshed, but now you're wondering how to keep skin hydrated. You need to follow up with a product that locks in the moisture from your wash, retains the natural moisture in your skin and contains ingredients to leave your face soft, supple and elastic. The Whirl Moisturizer is a light, fluffy lotion that hydrates and plumps your skin, keeping it moisturized throughout your day. Full of antioxidants and acne-fighting hyaluronic acid, it's the key to staying hydrated without clogging your pores. Use after cleansing in the morning and at night before bed.
Soothing Face Mist For The Win
Enhance your skincare routine with a face mist. The Stargirl Face Mist is a lightweight formula that refreshes, hydrates and nourishes your skin. Whether you're going au naturel or serving face beat for the gods, this mist soothes your skin and gives it a boost you're sure to love. It doesn't weigh you down with an unnatural sticky or greasy feel.
Target Zits Without Drying Your Skin
A great skin care routine can't ignore the trouble of acne. Whether you deal with the occasional pimple or menacing breakouts, you need a product that will zap those zits quickly. A lot of acne treatments contain ingredients that also zap your skin's moisture leaving it tight and tired. Try our Meltdown Acne Oil for rapid treatment of existing zits as well as the ones that are lurking below the surface. This facial oil takes the fight to acne without stripping your face of its moisture. Use with the Daydreamer Face Wash, the Whirl Moisturizer and the Stargirl Face Mist as part of a complete plan for skin that is healthy, hydrated and glowing