Blume Skin Care
Hormonal Acne Products
Fight acne and breakouts quickly with clean and gentle products formulated for acne-prone skin.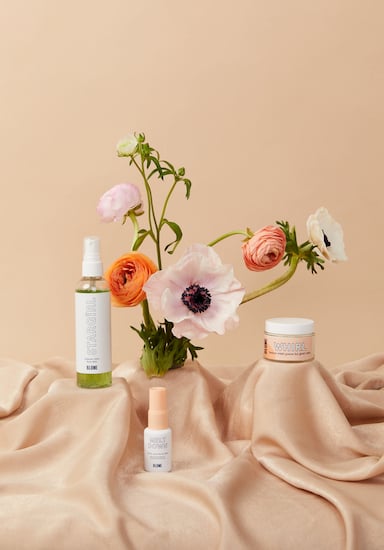 A Natural Approach to Clearer Skin
Yes, it's frustrating. Those little red bumps pop up overnight, disrupting your complexion and what an inconvenience they can be! While it may feel like a "why me!" moment, it's simply a natural occurrence and happens to everyone. You're not alone. You see, during developmental changes or times of intense stress, your body produces additional androgens, spiking sebum levels that are the root cause of those pesky zits. We get that just because something is normal, though, doesn't mean you want to live with it. You deserve smooth, healthy skin at all times. That's why Blume focuses on how to treat hormonal acne without excess chemicals, in a simple, clean way, protecting you while also letting you look your best!
Just Wash It Away
In addition to the oil from hormones, the body picks up dirt and oil from the environment. The combination creates that greasy, uncomfortable feeling you get mid-day. You may also experience it after being outside too long or waking up in the morning without wiping your face. Prioritize daily cleansing, giving yourself a clean palate every morning and night, wiping away all the icky excess and preventing that uneven look. Blume has effective, gentle hormonal acne treatment for adults.

Focusing on plant-based formulas, our skin cleansing products are powerful and effective. The Daydreamer face wash, for example, is designed for any time of day and with all skin types in mind. Its blend of lavender, chamomile, grapefruit extract and coconut oil, not only offers a light, delightful scent, but reduces redness and breakouts, while providing a more even skin tone.
A Quick Goodbye
We know it's tempting to pick at the spots. You just want them gone, but messing with them is going to worsen the breakout instead of fixing them! Instead, consider busting them using Meltdown Acne Oil, the best hormonal acne treatment for immediate action. Using blue tansy, lavender and rosehip, spot treating with just one pump of the oil in the evening allows your face to heal overnight. The herbal approach appeases irritated zones and aids in preventing future breakouts!

What about acne scar products? How can you restore previous damage? The Let's Face It bundle combines the Meltdown with Whirl Moisturizer and Stargirl Face Mist, an easy routine that hydrates, purifies and mends. You'll replace lost moisture, improving tightness and shrinking pores. Plus, the face mist works overtime to combat future trouble while giving your skin the ultimate dewy look! Want to ensure you receive deep penetration? The Jade Roller, a specially designed tool, is commonly used to improve absorption and reduce puffiness. Use it with our facial oils and creams. Rub it on, massaging facial muscles. Give yourself a wholesome, nutritious dose of goodness that allows you to continue shining from the inside out.
Stay Informed and Aware
Along with our clean skin care products, Blume believes in educating and explaining. Each product has extensive descriptions, helping customers understand not only how to use the merchandise, but how it's crafted. We have nothing to hide here. We don't believe in holding back. More than ever, we believe people should be empowered to care for themselves using what the world has given, not what someone created from artificial ingredients. Environmentally friendly and humane, we want customers to feel good about their self care practice.