Blume Skin Care
Acne Scar Products
The best natural products to get rid of acne scars, for good.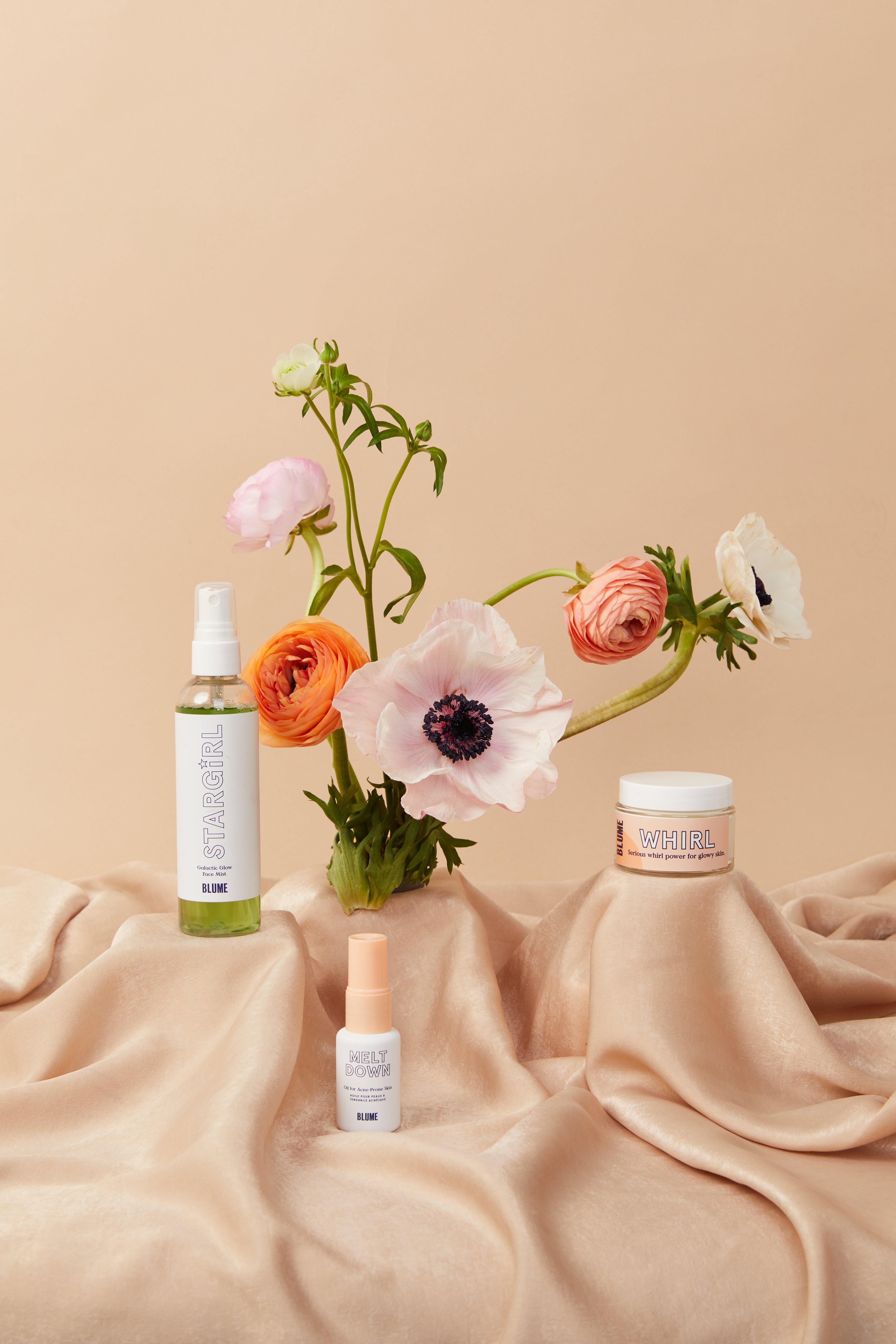 Acne Scar Products
At some point, most people deal with the discomfort of acne. Often, these blemishes show up during teen years, at a time when young people are increasingly self-conscious about their physical appearance. If you're struggling with acne and old acne scars, it's time to do something about it—for good! At Blume, we've put together the perfect products for you to do away with acne and other skin conditions so you can be your best self. For clear and radiant skin, this is the place to find the right products to transform your skin and bring that glow from the inside out.
The Right Way to Treat Acne Scarring
Even minor outbreaks of acne can do harsh things to your skin. Some products may be OK at removing it, but they'll leave behind unwanted scars, trust us! Log on to Blume today so you can shop for our ultra-popular Meltdown, an effective way to eliminate acne and prevent the scarring it can cause. Made from all-natural ingredients, you can choose half-bottle or full-bottle sizes. A little bit will go a looooong way with this sensational product. A single pump is all you need to battle acne and achieve the clear skin you've been dreaming of! Put a little on your spots before you sleep at night. When you wake up, you'll be amazed at the results (as shared by our community). You can even apply the oil to areas where you think acne may reappear. Bye bye, blemishes!
Get Treatment for Stubborn Marks
Acne removal is far from all Blume will do for you. There are also incredible ways to hydrate your skin and remove other blemishes that stand out. Whirl, our moisturizer, is a crowd-pleaser. This lotion will do the trick when you're looking for plump skin and a glow unlike anything you've seen before. Creamy and light, it seeps deep into your skin and makes it soft and beautiful. Marks and blemishes won't stand a chance against it, either. The lotion is full of rich antioxidants and will work for all skin types.
Try our Skin Nourishing Face Mist
Searching for skin cleansing products you can spray directly on your face? Look no further than Stargirl Face Mist. Not only does it clean your face, but it also does a great job of hydrating it and soothe any rough spots! All you've got to do is apply one or two sprays on the desired area, and you'll feel refreshed with its anti-bacterial and anti-inflammatory properties. You can use this mist with or without makeup, as your toner or setting spray.
Use a Double-Team to Heal Acne Scars With Moisturizer
If you're still concerned about your acne, why not use a team approach to get rid of the marks and scars? Combine Whirl, Meltdown and Stargirl to beat acne into submission. Together, this trio won't give acne anywhere to hide, and you can be confident that you're healing your skin and making it firm and radiant!
We Have the Best Spot Treatment For Prevention
You may not have a big acne outbreak yet, but if you're worried about what may be on the way, Blume has the right products for you. Our impressive line of skincare selections won't just help acne and other blemishes go away, but they'll keep them from ever invading your skin.
Once you try our products, you'll wonder what took you so long to shop at Blume in the first place. Get the supple, acne-free skin you've been looking for, the all natural way.