Blume Skin Care
Skin Cleanse & Detox Products
Cleanse and detoxify your skin with products made from natural and safe ingredients.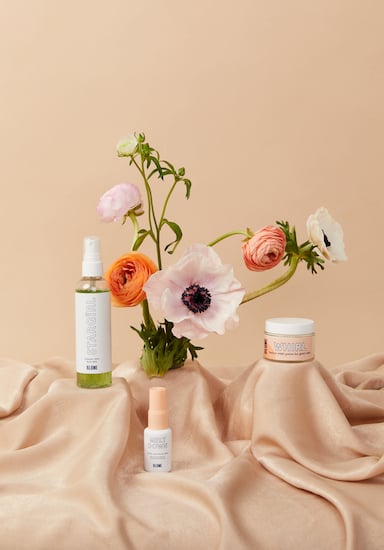 Skin Cleanse & Detox Products
Let's face it: Your skin goes through a lot every day. Exposure to harsh weather, wear and tear, you name it — it all adds up and can do quite a number on your skin. If you ignore the health of this vital part of your body, you'll start to feel the effects pretty quickly, and see them too. It's a good thing Blume is here to take good care of your skin. Visit our site today and peruse our skincare products designed just for you. We've got something for every skin type. There's also a product for a wide range of conditions you want to get rid of, whether it's dry skin, puffy skin or annoying breakouts and blemishes.
Start to Transform Your Skin
If you've started to give up hope that your skin will ever look radiant, firm and clear, don't throw in the towel just yet. Blume has everything you'd need to eliminate acne, acne scars and other marks. Our product hydrates skin and works hard to make it healthier than it's ever been. Want to know how to make your skin glow? Well, we're so glad you're here! We've got everything you need right here.
You Can Reduce Puffiness With a Jade Roller
If you've never used a jade roller before, you're in for a big surprise. This tool comes in our Glowy Skin bundle, which also includes our popular products Daydreamer and Meltdown. Simply apply the oil or wash on the roller and apply it to your skin. The Jade Roller will help get the products deep into your skin to give it an even more effective massaging cleanse. Acne and other skin conditions can't put up a strong fight when you combine these forces against them. The Jade Roller will also help minimize that puffy look you've been struggling with! With this routine, you can achieve the firm skin you've been wanting, the all natural way.
Get Deep Cleansing for Detox
When you want to give your skin an overhaul, our detox products will do just the trick. A basic wash might not be enough to get your face clean, but Daydreamer Face Wash sure will. You can cleanse with it at any time of day without worrying about stripping your natural oils. After rubbing it in and a good splash of water, your face will feel supple and hydrated. It's truly perfect for users with dry skin, and won't leave your skin looking or feeling tight. It's alcohol-free and uses clean ingredients to deliver a massive punch to those unwanted invaders in your skin!
You'll Get Plump Skin With Moisturizer
Whirl Moisturizer is not an ordinary lotion. While run-of-mill products may claim to hydrate your skin, this amazing Blume product does just what you want: give you the perfect plumpness. At the same time, this light cream will transform your skin and help you look more radiant than ever. It'll soothe rough patches in your skin, take care of acne and acne scars, without clogging any pores.
Here's How to Treat Stubborn Spots Correctly
You may think it's tough to get rid of unappealing spots. We totally get it! Thanks to Blume, your job just got easier. The products will do the work for you. Together, Whirl, Meltdown and Daydreamer are the perfect trio to get rid of unwanted marks and make your face glow. Blume lets you package these three products together with one simple purchase. Your face is usually the first thing most people notice when they see you. Leave a lasting impression by elevating your routine with radiating confidence and clear, healthy skin!