Blume Skin Care
Skin Care for Enlarged Pores
Minimize the size of your pores with natural, effective skin care.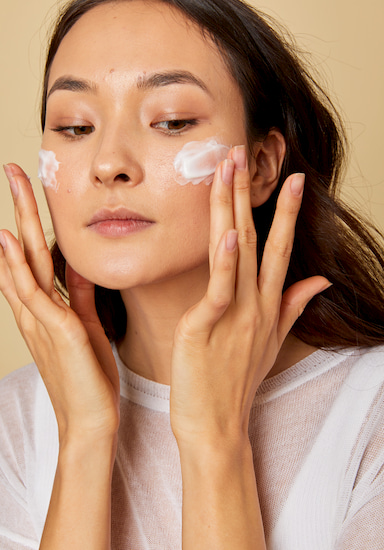 How to Get Rid of Large Pores
For many of us, we have to routinely put in effort to keep our faces clear. Acne, excess oil and other impurities threaten our goal for blemish-free skin. One of the benchmarks of clear skin is the minimization of your pores. Pores are tiny holes in the skin that release oil and sweat. The appearance of large pores is commonly associated with acne, excess sebum production, sun damage and the use of comedogenic skin care or makeup which clog the pores. All of these issues can put a clear face in jeopardy, so let's talk about what can be done about large pores! First of all, clear skin must be clean. What're you using to cleanse your skin? Soap and other harsh cleansers are too drying. They're great at removing dirt and oil, but take it too far by completely stripping your skin of all moisture. Your pores may look smaller in the meantime, but dry skin triggers your body to produce excess sebum to compensate. Excess sebum leads to oily skin, breakouts and large pores! Break the cycle with the best face wash for pores. Blume's Daydreamer Face Wash gently cleanses your skin while retaining its essential moisture and hydration. It removes dirt from your pores and is a great step towards clear, glowy and plump skin.
Why Are my Pores So Big?
The size of your pores is something you were born with. You can't actually change the size of them, but you can use products that help refine their appearance. After you've cleansed properly, gently pat your face dry and then follow with the right moisturizer. If you suffer from oily skin, you might think using moisturizer will lead to overhydration. The right product helps the sebum penetrate the layers of skin, leaving with you skin that is better balanced. Our Whirl moisturizer is light and full of antioxidants to help balance your face and keep it well-hydrated. A touch of hyaluronic acid helps fight acne and the natural, plant-sourced ingredients help to heal scars and improve skin's brightness and elasticity. Best of all, it doesn't clog your pores causing your body's sebum-production to go into overdrive. Yes, you read that right!
Bigger Pores on Face
Pores tend to be much more noticeable in areas where you have larger sebaceous glands, such as the nose and the forehead. Trapped oil, pimples and dead skin cells can make your pores appear even bigger. Controlling acne goes a long way to minimizing the appearance of these tiny openings. Blume's Meltdown Acne Oil is an all-natural facial oil that targets acne, soothes inflammation, reduces scarring as well as the appearance of pores. This efficient product is great for overnight treatment of pimples. You can also use it for acne that has yet to make an appearance. It's one of the best natural skin products available on our website to help take your skin to a new level of clarity. You get your pore size from your mom and dad, but you don't have to settle for troubled, acne-prone skin! Blume offers a full-range of gentle, yet effective products to bring your pores and oil under long term control.