Blume Period Products
Essential Oils For Period Cramps
Find relief from period symptoms with natural and essential oils.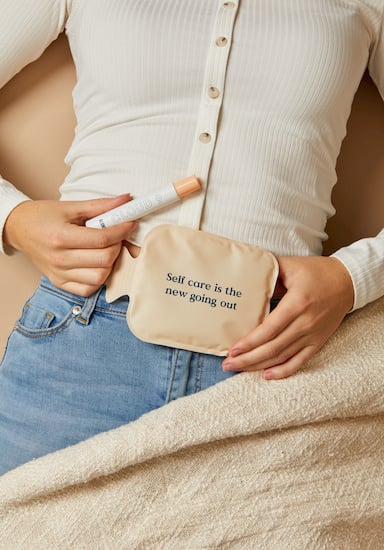 Essential Oils for Overall Care
Between the irritability, physical discomfort and mess you have to deal with during your period, there's no sugarcoating that it's not a fun time. That's why we've created a line of products designed for you: Self care products that can help with everything from oily skin to the inevitable cramping that comes along with Mother Nature's monthly drop-in.
Essential Oils: Don't Doubt Its Healing Powers
You've likely heard of essential oils before, but have you ever used essential oils for menstrual cramps? It's fair if you're skeptical; it might sound like some weird new-age fad, but with it's rising popularity in skin and body care, there can be a lot of good things found in essential oils for cramps. Take our Cloud 9 Cramp Oil, for example. When you check out a few of its ingredients you realize that the right blend of different essential oils do so much more beyond smelling good:
Geranium, which is sweet-smelling and can act as a mood booster
Lemon, perfect for helping your pounding head and alleviating nausea
Peppermint, with heating properties, also soothing and gentle for your nauseous tummy and relieving muscle aches (including your cramps!)
If you find yourself wondering what essential oil is good for cramps, give Cloud 9 a go! Using it is a breeze: Simply roll it onto your skin (your wrists, temples, lower back, abdomen, etc), gently rub it in and wait for the effects to kick in.
What's In Your Period Products?
The symptoms that come along with your period are just things that we have to deal with on a monthly basis, which makes it even more crucial to ensure that you're treating your body properly when it comes to the products you're using! Did you know that the United States has zero federal regulations that dictate what goes into tampons and pads? That means if unregulated, filler products like chemicals could be lurking in big name-brand fxminine products. This is why we created our organic period products. Made with 100% organic cotton and 0% filler, each tampon and pad that we produce is as natural as you are! We use no chlorine bleach or synthetic materials, making our products hypoallergenic and biodegradable. They're kind to you and kind to the environment in return.
Be Kind to One Another
Organic products and natural remedies are here to help you feel better during your period, and hopefully make your life a bit more comfortable. Remember that the most important thing that womxn can do for one another is to support and continue uplifting each other. At Blume, we believe in everything we offer, between our products and educational content, it's our small way of extending our hand to you. We're in this together! Let's make our world a kinder, more supportive one.