The Basics
Daydreamer, Hug Me & Whirl
 The 3 products you need everyday, whether you have a big day or you're on the day. 
Step 1: Cleanse with Daydreamer 
Step 2: Hydrate with Whirl 
Step 3: Fight BO with Hug Me
CLEAN | CRUELTY FREE | VEGAN | NO BAD STUFF
What's Included
Whirl Moisturizer
Antioxidant Packed Moisturizer
$34.00
Daydreamer Face Wash
Super Gentle Face Wash
$20.00
Hug Me Probiotic Deodorant
Unscented Aluminum Free Deodorant
$14.00
What does it do
Rich with antioxidants, Whirl soothes, heals, and plumps the skin by preventing acne, future breakouts and bumps, all while locking in that key hydration.It's superstar list of natural ingredients work hard to calm inflammation, retain elasticity and brighten skin. Designed for any and all skin types.
How to use
Apply a quarter sized whip of the moisturizer, and massage gently into your skin to activate the elasticity and settle comfortably without any worries of clogging pores. Whirl can be used both in the morning as a daytime moisturizer to lock in the hydration or in the nighttime before bed to heal and regenerate your skin of any blemishes and breakouts throughout your sleep. Oh, what a wonderful Whirl.
Ingredients
Water, Aloe Leaf Juice, Grape Seed Oil, Rosehip Seed Oil, Cetyl Alcohol, Ceteareth-20, Opuntia Ficus Prickly Pear Seed Oil, Glyceryl Stearate, Sodium Lactate, Benzyl Alcohol, Salicylic Acid, Glycerin, Sorbic Acid, Coconut Fruit Extract, Vanilla Fruit Extract, Coffee Seed Oil, Sodium Hyaluronate, Skullcap Extract, Licorice Root Extract
Claims
Vegan, Cruelty free, Paraben Free, Sulfate Free, No Added Fragrance, Pregnancy Safe, Gluten free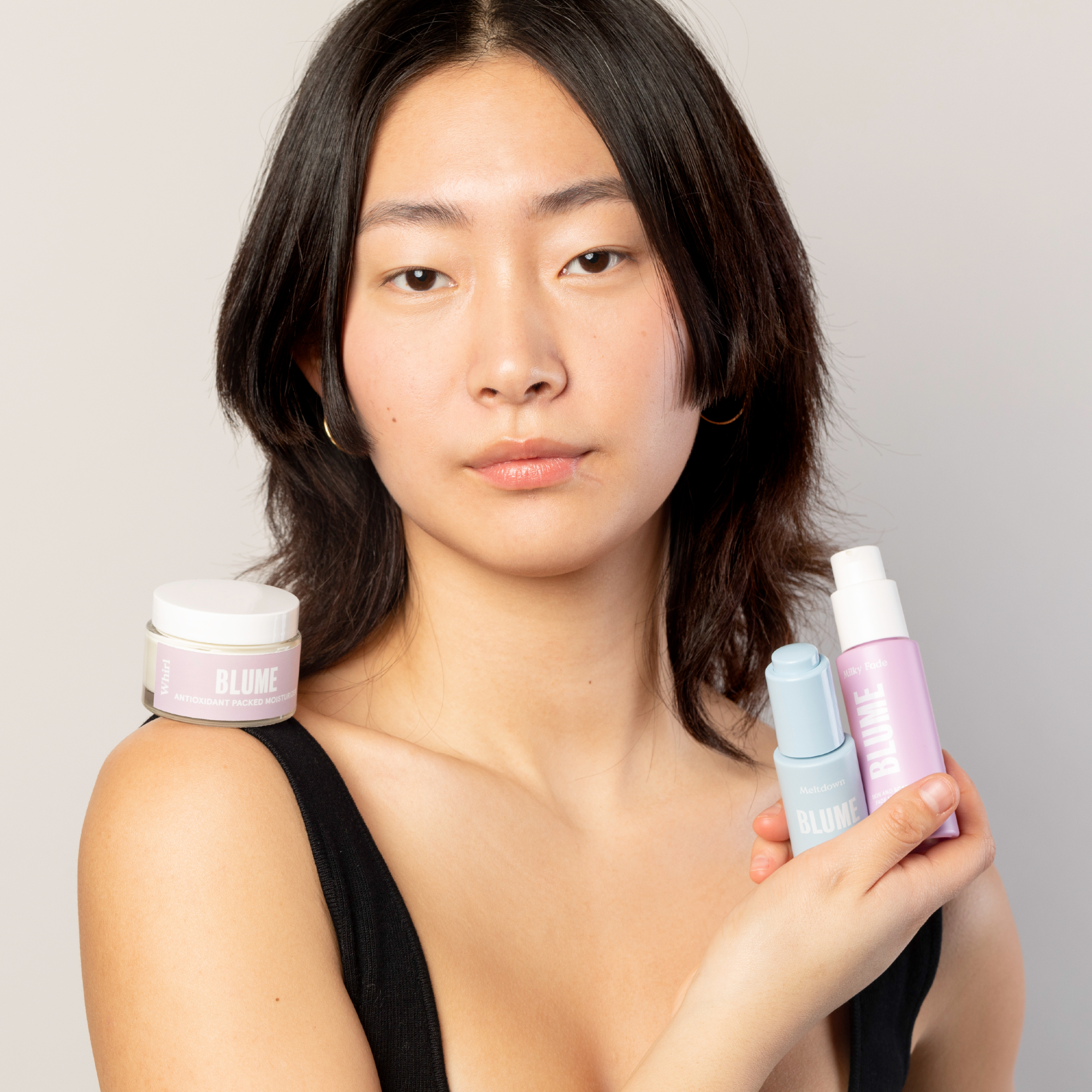 What does it do?
Hydrates and soothes skin, removes make up and gives you that perfect glow so you can live your best life.
How to use
Start your day with two pumps and massage in circular motions onto wet skin. Rinse and pat dry. Moisturize, apply SPF and you're off to slay the day.
For night use, massage 3 pumps onto wet or dry skin after makeup removal. Slowly massage in circular motions and add water as you go. Pair with your favourite night cream, add a drop of Meltdown and you're ready for bed.
Ingredients
120ml, 4.fl oz
Aqua, Brassica Campestris (Rapeseed) Seed Oil, Stearic Acid, Stearyl Alcohol, Caprylic/Capric Triglyceride, Hydroxypropyl Starch Phosphate, Glyceryl Stearate, Glycerine, Propanediol, Sodium Cocoyl Isethionate, Decyl Glucoside, Arginine, Caprylyl Glycol, Natamycin, Pelargonium Graveolens (Geranium) Flower Oil, Lavandula Angustifolia (Lavender) Oil, Ormenis Multicaulis (Chamomile) Flower Extract, Arnica Montana Flower Extract, Citric Acid, Sambucus Nigra (Elderberry) Fruit Extract, Lentinula Edodes (Shitake) Mushroom Extract
Claims
100% natural-source ingredients, BPA free, aluminum free, paraben free, sulfate free, alcohol free, no artificial fragrance, no petroleum derived ingredients, cruelty free
What does it do?
Keeps you smelling good, feeling fresh, and super huggable.
How to use
Apply 2-3 swipes onto underarms in the AM for full day coverage. If after shaving, wait 30 mins before using.
Ingredients
70g / 2.5oz

Cocos nucifera (Coconut) Oil, Zea Mays (Corn) Starch, Sodium Bicarbonate (Baking Soda), Wild Crafted Euphorbia Cerifera (Candelilla) Wax, Simmondsia Chinensis (Jojoba) Seed Oil, Bacillus Coagulans (Probiotics)

Claims
Vegan, Cruelty free, Paraben Free, Aluminum Free, Alcohol free, No Added Fragrance, Travel friendly, Gluten Free
Blume Box
Personalize Your Skin Care Routine
Take Blume's skin quiz and get a personalized skin routine, just for you in 2 minutes.
Take the Quiz
FREE SHIPPING OVER $50 <3