Dancing Dew-o
Whirl & Meltdown
Whether it's active breakouts to care for throughout the day or blemishes and scarring to treat throughout the night, this dancing dew-o does it all while sealing in the healthy hydration. Whirl Moisturizer and Meltdown acne treatment.
What's Included
Meltdown Acne Oil
Oil for Acne-Prone Skin
From

$28.00
What does it do
Rich with antioxidants, Whirl soothes, heals, and plumps the skin by preventing acne, future breakouts and bumps, all while locking in that key hydration.It's superstar list of natural ingredients work hard to calm inflammation, retain elasticity and brighten skin. Designed for any and all skin types.
How to use
Apply a quarter sized whip of the moisturizer, and massage gently into your skin to activate the elasticity and settle comfortably without any worries of clogging pores. Whirl can be used both in the morning as a daytime moisturizer to lock in the hydration or in the nighttime before bed to heal and regenerate your skin of any blemishes and breakouts throughout your sleep. Oh, what a wonderful Whirl.
Ingredients
Water, Aloe Leaf Juice, Grape Seed Oil, Rosehip Seed Oil, Cetyl Alcohol, Ceteareth-20, Opuntia Ficus Prickly Pear Seed Oil, Glyceryl Stearate, Sodium Lactate, Benzyl Alcohol, Salicylic Acid, Glycerin, Sorbic Acid, Coconut Fruit Extract, Vanilla Fruit Extract, Coffee Seed Oil, Sodium Hyaluronate, Skullcap Extract, Licorice Root Extract
Claims
Vegan, Cruelty free, Paraben Free, Sulfate Free, No Added Fragrance, Pregnancy Safe, Gluten free
What does it do?
Ain't nobody got time for face masks. Fight breakouts, reduce inflammation and prevent scarring. Crafted with love, one pump can heal all your spots!
How to use
Apply as needed after cleansing (we recommend using Day Dreamer), prior to applying night cream. Let out one pump on your fingertip, and directly apply to all breakouts.
Ingredients
0.5oz

Black Cumin Seed Oil, Rosehip Oil, Tamanu Seed Oil, Sunflower Seed Oil, Comfrey Root Extract, Olive Leaf Extract, Lavender Oil, Jojoba Seed Oil, Tea Tree Oil, Helichrysum Flower Oil, Blue Tansy, Chamomile Flower Oil, Rosemary Leaf Extract
Claims
BPA free, gluten free, aluminum free, paraben free, alcohol free, no added fragrance, vegan, cruelty free, organic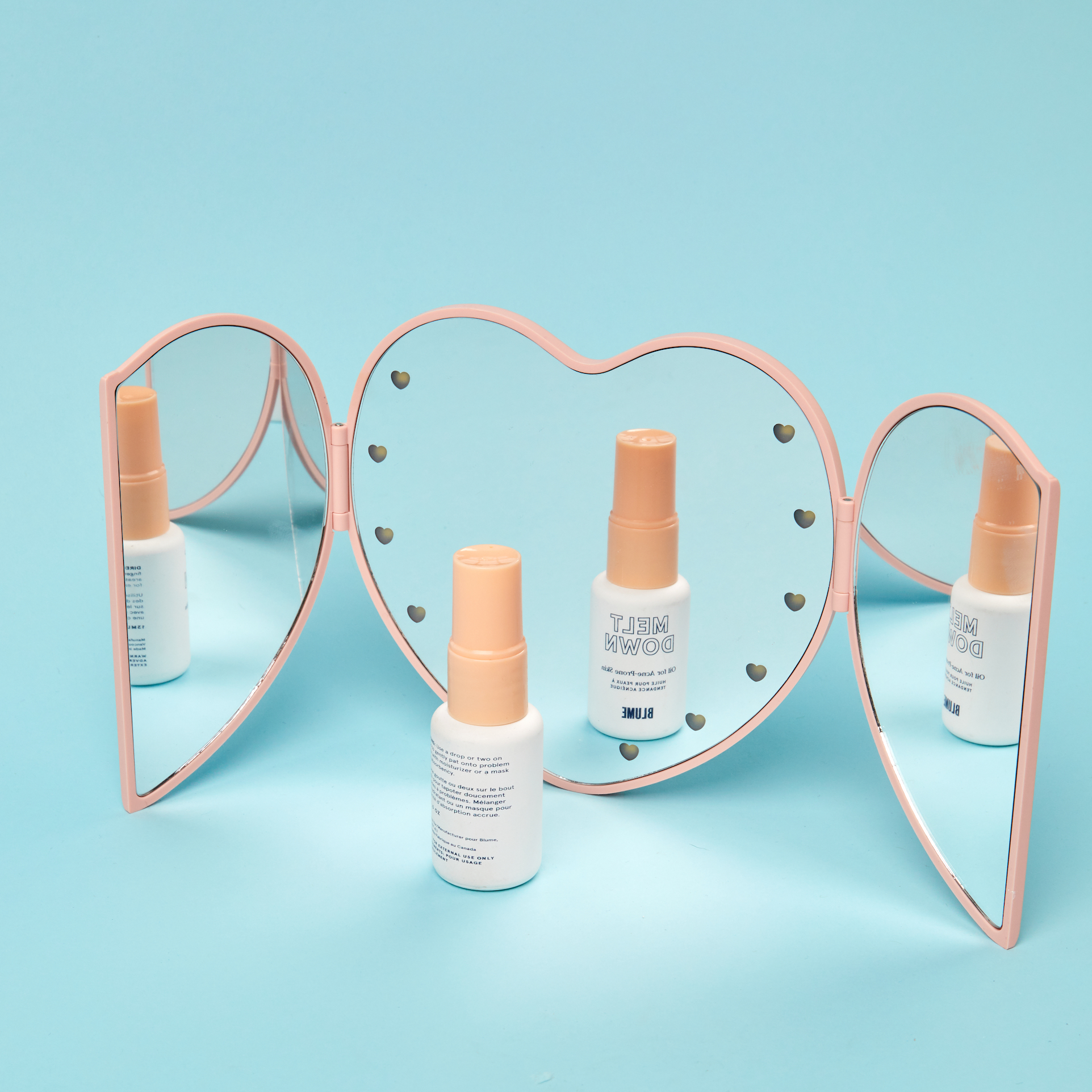 Blume Box
The box that goes with your flow
Your body's too busy to be worrying about buying tampons and pads. Build a Blume Box and we'll ship it straight to your doorstep.
Build Your Box
Starting at $8/Month