Back to School Bundle
Hopping on the PA system to say: welcome back to school! Back to school looks different this year and to make this szn comfier, this bundle will cover all grounds so you can focus on being your best self. We'll take care of the rest.
Attendance: Cloud 9, Stargirl and Air Hug 
Take this trio on the go with you: Stargirl face mist keeps you acne-free and fresh with just a spritz.  Cloud 9 essential oil to soothe cramps PMS pains on the go and Air Hug, Blume's hydrating hand sanitizer made with Aloe.


$44
What's Included
Air Hug
Nourishing Hand Sanitizer
$8.00
Cloud 9 Cramp Oil
Essential Oil for Cramps
$18.00
Stargirl Face Mist
What does it do
Made with aloe and vitamin E, our hydrating hand sanitizer will hug your hands and keep you germ-free whenever, wherever.
How to use
1 squeeze for both hands. Share with friends. Repeat.
Ingredients
80mL
ACTIVE INGREDIENTS: Ethanol (70%)
INACTIVE INGREDIENTS: Aqua, Aloe Barbadensis (Aloe Vera) Leaf Juice, Glycerin, Isopropyl Myristate, Propylene Glycol, Tocopheryl Acetate (Vitamin E), Aminoethyl Propanol, Carbomer
Claims
Vegan, Cruelty free, Paraben Free, Sulfate Free, Gluten free
What does it do?
Fights cramps, balances hormones and calms pms symptoms. Essential oils are an amazing natural treatment for all symptoms of PMS.
How to use
Apply Cloud 9 to your abdomen, wrists or chest in circular motions, five to ten times. Relax, take a few deep breaths and let it work it's magic.
Ingredients
jojoba*, essential oils*: clary sage*, peppermint*, geranium*, bergamot*, lemon*, non-gmo vegetable source vitamin e– * organic
Claims
BPA free, gluten free, aluminum free, paraben free, alcohol free, no added fragrance, vegan, cruelty free, organic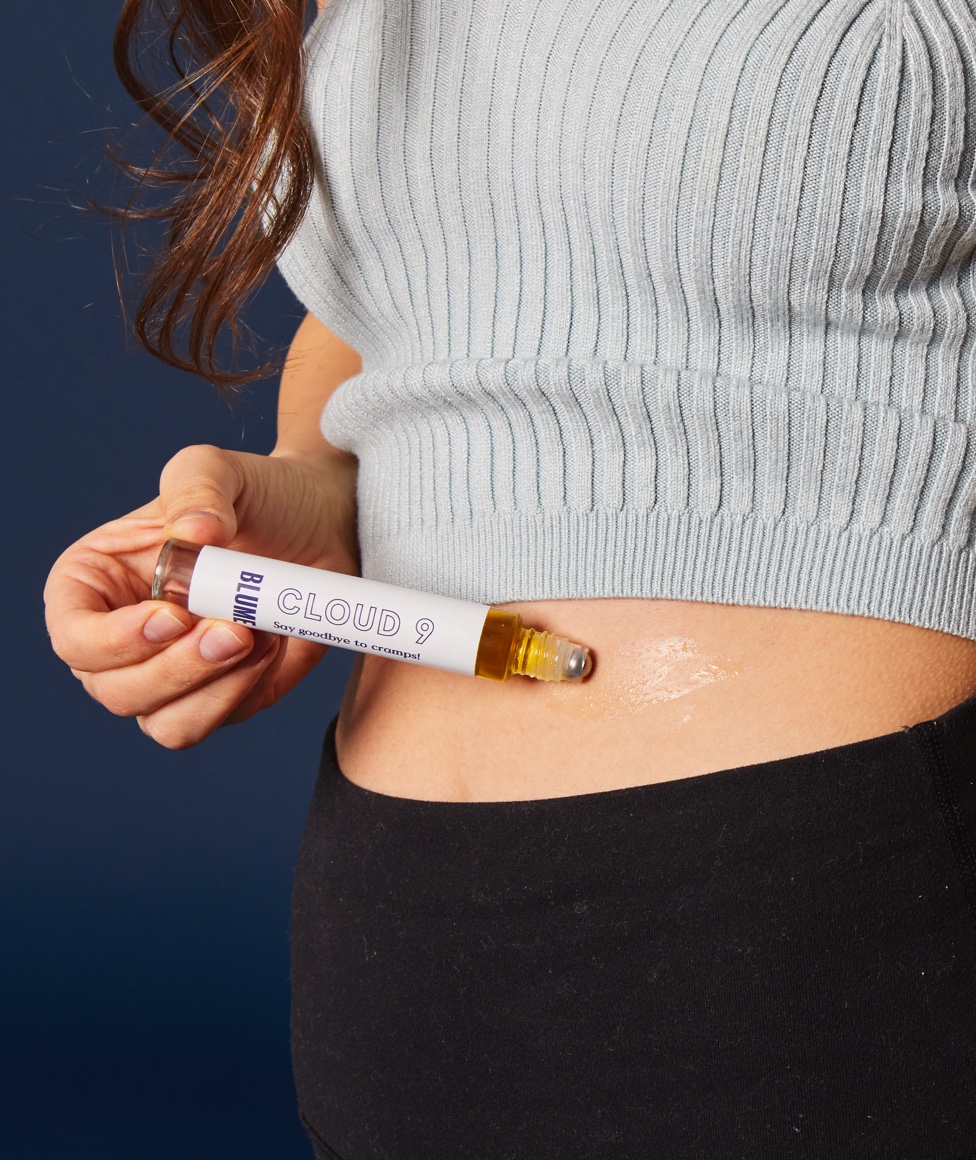 What does it do
Hydrates and freshens skin, for steller dewiness & hydration.
How to use
Spritz onto your skin at any day, anytime.
Ingredients
Purified Water, Rose Water, Aloe Vera, Sandalwood Water, Witch Hazel, Radish Root Ferment, White Willow Extract, Vegetable Glycerin, Oat Extract, Neem Leaf Extract, Neem Flower Extract, Corallina Officinalis Extract, Coccinia Indica Fruit Extract, Eggplant Fruit Extract, Aloe Vera Flower Extract, Basil Flower/Leaf Extract, Turmeric Root Extract, Blue Tansy Oil, Clary Sage Oil, Cucumber Fruit Extract, Peppermint Oil, Basil Oil
Claims
Vegan, Cruelty free, Paraben Free, Sulfate Free, Alcohol free, No Added Fragrance, Gluten free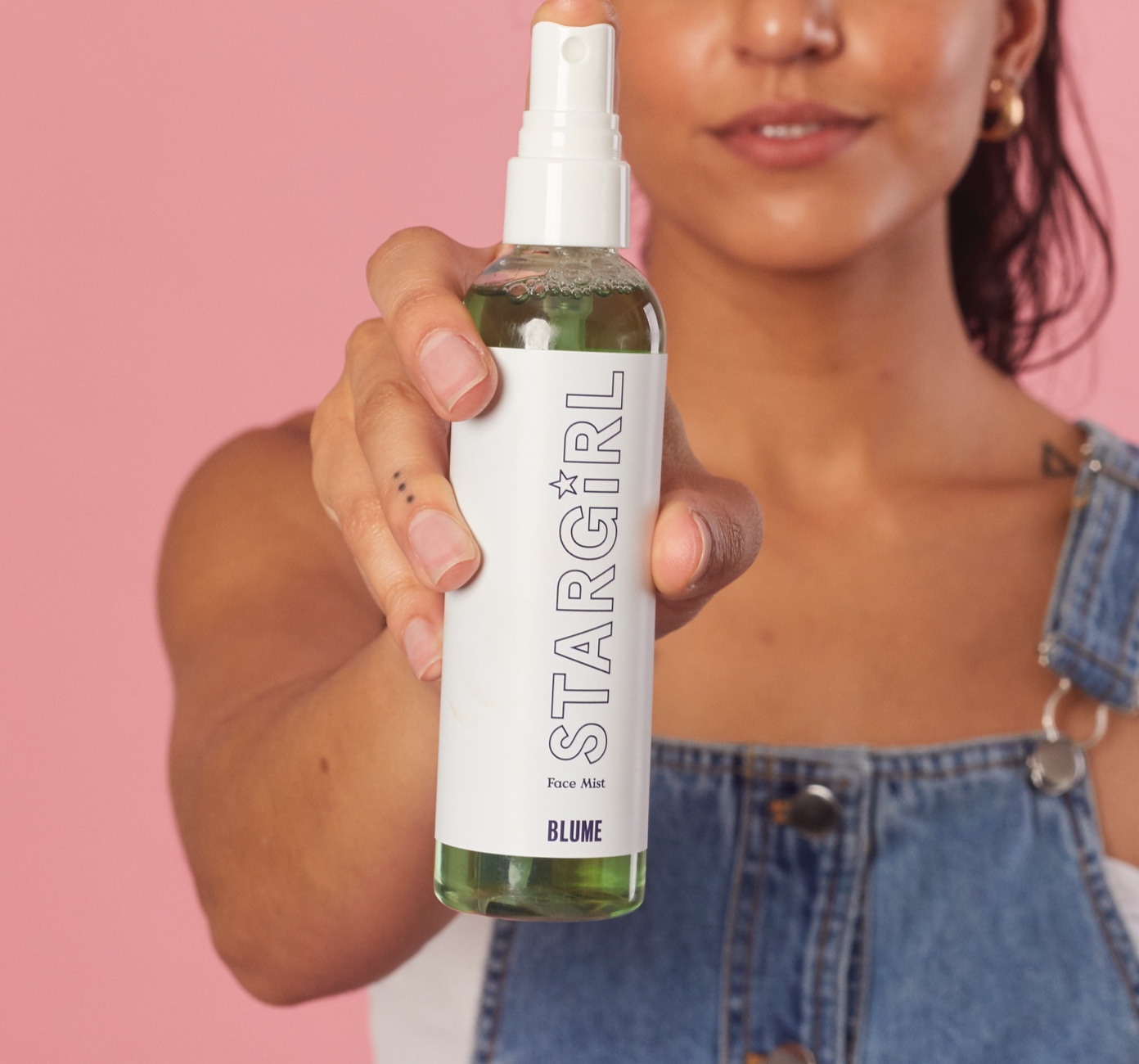 Blume Box
The box that goes with your flow
Your body's too busy to be worrying about buying tampons and pads. Build a Blume Box and we'll ship it straight to your doorstep.
Build Your Box
Starting at $8/Month